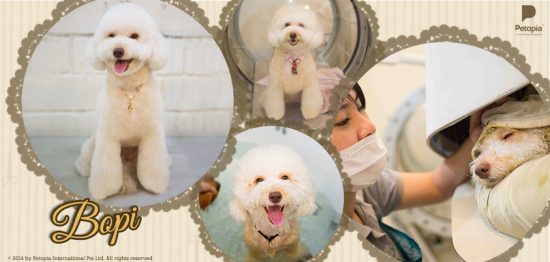 "It all started since October 2013, after being a silent reader for a few months on various pet forums and news raving about Petopia's spa services, I decided to make an appointment to know more about how can they help with my Bopi's red spots on her back. I am so comfortable with Petopia's environment the moment I stepped in..as if I am in a spa salon myself!
And not forgetting Marcus who also shown us around the premises and patiently going through discussions about my gal's skin condition.
After the first session of the ultrasonic bath and Ayurveda Herb Pack with Far Infrared therapy, my gal was smelling so sweet and her fur getting more fluffy.
From then on, there is no turning back! My gal has been enjoying her spa almost every week and the condition of her red spots improved tremendously and she was less itchy. She has always been pampered like a princess during her spa sessions.
I am amazed on the day that I picked up my gal right after her first session on grooming with Hiromi-san. I never seen my gal so beautifully groomed! Hiromi-san's scissoring skill is the best I ever encountered. My gal has never been so happy and calm after grooming session. Again, there is no turning back. Being a kiasu furkid parent, I will try to book a grooming appointment in a month's advance, afraid that the grooming slots will be fully booked.
Another personal touch that Petopia provide is her pictures are uploaded onto the Facebook page so I can see how happy she is during spa and grooming.
Up to date, I am very pleased with the services rendered by their team and my heartfelt thanks to Marcus, Richard, Hiromi-san, Laureen, Cherie, James, Victor and everyone in Petopia.
I hope they continue their drive and passion in this pet industry.
Thumbs and Paws up!!"
*Vanessa Ong and Bopi*