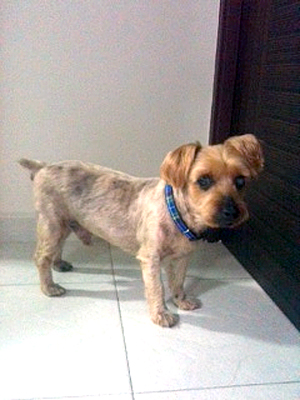 "Benji, our 12 year old Silky terrier, stayed with Petopia recently in November when we went for our holiday.
This was actually not the first time that Benji has stayed with Petopia during our holiday trips.
My Benji is a special case as he is a blind dog.
Given that age has caught up with Benji, his sense of smell and hearing have deteriorated over the recent years.
Given his insecure nature now due to his diminished abilities, he no longer can mix around with other dogs.
Furthermore, he has a mild liver condition whereby he can only feed on vet prescribed food and not others.
My previous experiences with other boarding places for Benji often resulted in him coming back with rash all over his body and even diarrhea and the most serious case was when he has to be admitted and be put on drips as his diarrhea had caused him to suffer from dehydration!
When I read about Petopia in the magazines, I made my way down and was very impressed with the professionalism and the friendliness that the staff in Petopia had given me.
I thought why not give it a try since it's new and they really did convinced me that although Benji is blind and old, there will not be discrimination over his disability and all the care and attention will still be provided.
I was actually right as the day when Benji came back from his stay with Petopia, he did not suffer from any rash or any other illness that he had previously suffered from all those previous boarding places that he had stayed!
Benji came back a very happy dog and always wagging his tail and from his look I can tell that he actually enjoyed his stay with Petopia.
Subsequent stays and grooming sessions will always see him wagging his tail when Richard or his team comes to pick him up.
Thank you Petopia (especially to Richard and his hotel staff) for ensuring that all care and attention is provided even if our fur companion has any disability.
I would definitely not hesitate to recommend Petopia to all my friends with fur companions.
Thank you and with fur regards"
Coreen and Benji