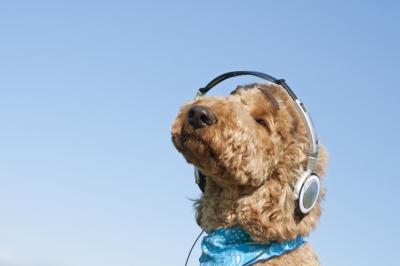 Some fur parents might insist their animal companions like exactly the same music they do, but this might not be true. Research has indicated animals typically don't have much response to human music, but music that has been composed with their acoustic and vocal range in mind does create a more observable responsiveness, according to Charles Snowdon, an animal psychologist at the University of Wisconsin-Madison.
Dogs might be the exception to this general observation, as they seem to become more relaxed with classical music and agitated when heavy metal is played. Snowdon said, "So, it is possible that they might be responsive to music in our frequency range. My prediction is that a big dog might be more responsive to human music than a smaller dog such as a Chihuahua." (Source:MSNBC)
It is hard to tell how much the two large dogs in this video are enjoying playing a piano. They might be participating because they are following the lead of a human, had extensive training, wanting food reward or all of the above. Some might interpret such a scene as confirming that dogs like the same music and have the same emotional responses to human music, but what scientific research has confirmed such a view?
Some fur parents might vehemently assert that they have seen responses in their companions when they play certain pieces of music, and they could be right, but it's hard to make conclusions based on personal anecdotes. Some animals might be responding to the change in mood for their parents and not to the music being played, for example.
Also, it seems fairly common for humans to project their own emotions on animals, which denies the perspective of animals, and the fact that, though there could be some overlap, there are also differences. These differences are something to keep in mind when playing music for or around animals. Other factors, like volume, should also be considered, as high volume can be stressful or damaging to animals' ears.
Article by J. Richardson