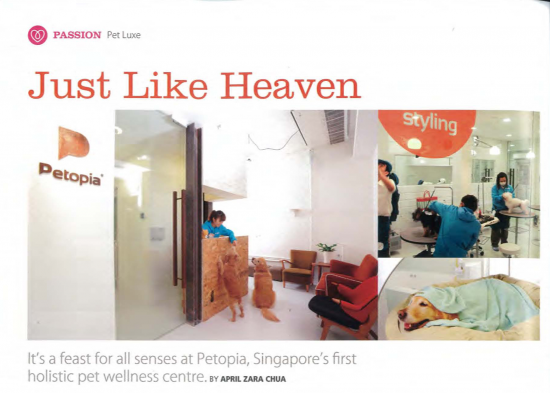 Step in and be welcomed by a soothing scent of essential oils permeating through the entire centre to put furry (and human) guests at ease. Boasting a spa concept inspired from human spas and modern pet spas from Taiwan and Japan, Petopia is redefining luxury pet spa services in Singapore with its holistic approach and state of the art equipment.
Since opening its doors in mid April 2010, Petopia has introduced a series of "firsts" to the Singapore pet spa scene. The one-stop pet wellness centre divides its services into three main categories – styling, spa and healing and hotel and daycare, but it offers more than the standard fare.
Included in their pet styling menu are add-on options like hair extensions, hair deco, fashion-dyeing and pedicure nail caps. Their spa and healing services include Ultrasonic Ozone Spa, microbubble baths, Far Infrared (FIR) therapy, healing clays, and healing sessions by Petopia's physiological health consultant who makes use of traditional Japanese and Chinese healing techniques such as reiki and moxibustion.
Pet parents can rest easy knowing their pets are in good hands, executive director Marcus Khoo, who is also Petopia's resident physiological health consultant, is a naturopathic (alternative medicine) practitioner. He is trained in aromatherapy, herbology, homeopathy, massage, reiki (Karuna) and moxibustion.
Another one of Petopia's specialities is their microbubble bath. Already popular in Taiwan, Japan and in Western countries, micro-bubble machines shoot out tiny bubbles, small enough to penetrate deep into the pores of the skin, giving the skin an extremely thorough wash. Microbubble baths have been proven to remove dirt effectively without the use of soaps and shampoos, perfect for pets with sensitive skin.
Pet parents can even choose to pamper their pets with Petopia's 20-minute Far Infrared (FIR) therapy session. The animals are coated with one of Petopia's special healing clays, wrapped with a towel and put under the infrared machine, which gives off radiant heat without the harmful ultraviolet rays. It helps to strengthen the immune system and improve blood circulation.
This premium pet spa uses a centralised computer system that was specially designed for managing the different services the centre offers; detailed and updated information of their furry guests can be pulled out with just one click from computer terminals strategically placed in the reception, grooming, healing and boarding facilities.
Petopia's transparent concept of floor to ceiling glass panels allows pet parents to see their pets during styling, spa services and daycare. Pet parents can even watch their fur kids at Petopia's boarding facility via live webcam feeds while they are away.
PETOPIA  - 26 Jalan Kelutut, Singapore 809043 (off Yio Chu Kang Road) Tel: 6886 9056 www.petopia.sg