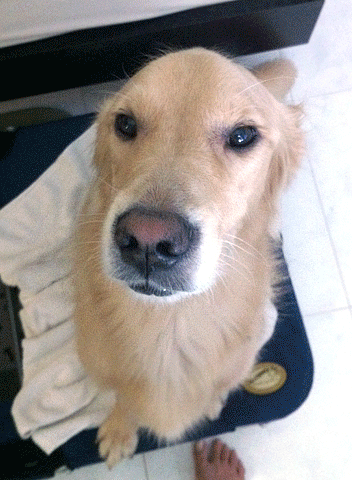 "Like any fur parent, I love my dog like he's my own child. I feel proud of Whisky's every milestone and is elated to share developments – big or small with close ones.
Whisky is 4-1/2 yrs old now.
His younger days were not without worries and heartaches. He had tick fever when he was 2yrs old  and he was also fussy with food since puppyhood. Topping that, what started as seemingly-harmless red spots on his abdominal area grew more threatening by the week. I found myself at my wit's end when I brought him to vet after vet who could not explain the problem clearly to me and worse, could not even find the solution.
Then I heard about Petopia from my gal friend.  And thought – why not give it a try on my 'darling boy' Whisky ..
I am very glad and relieved to have taken that 'leap of faith'. Those weekly sessions of spa treatments started showing progressive and significant results after 10 sessions of special treatment with clay pack, ozone spa sessions etc…I felt my spirit literally lifted and I believe as any intelligent, sensitive dog can detect, Whisky was back under the care of a confident and happy parent. That notion further fuelled the joy of companionship – the feeling of togetherness – between mother and 'child'.
I would also like to commend the excellent condition of the hotel environment Petopia provides, as well as their personnel's meticulous attention, without which this facility would not be possible. This total package is a solution to my problem of being away for more than a few days (vacation). It provides me the ease of mind and the freedom to travel as and when I need to.
So Petopia, a big pat on your shoulders, for allowing any pet lover to experience the real joy of commitment as a care-giver and for helping our pets live their lives to the fullest!
3 cheers for Petopia! Hurray !!!"
~ Michelle Ong