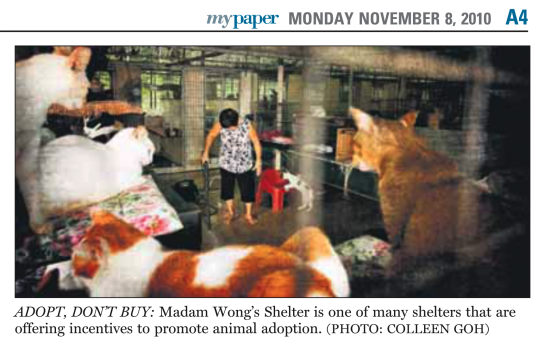 By Rachel Chan
FOR the first time, pet-related businesses are rallying together to promote the adoption of pets.
For four months starting from Nov 15, a vet, a pet-wellness centre, a dog-obedience trainer and pet-food distributor will dangle freebies to spur new adoptions.
An adoption card, called the Companion Care Card, will be issued by animal shelters affliated with the programme.
Those who adopt animals can use the cards to redeem a free food starter kit; a complimentary grooming session; a health check for their pets, or a 10 per cent discount on the cost of sterilisation, dental scaling or microchipping at a vet's; and a free four-week dog-obedience course.
People are urged to adopt pets from the shelters as the animals, many of which were either abused or abandoned, would fare much better in the care of a loving family. Adoption would also help free resources and allow the shelters to rescue more animals.
The initiative is spearheaded by Petopia International, the pet-wellness centre that made news this year for offering dog-spa treatments and air-conditioned kennels for pet boarders.
Mr Marcus Khoo, Petopia's executive director, said: "It is our way of helping those who have made a conscious choice to provide for unfortunate animal companions.
We hope to facilitate the shelters in re-homing their animals."
The cost of rehabilitating a pet can run into the hundreds of dollars. For example, it can cost a three-digit figure to sterilise a female cat.
Some animal shelters my paper spoke to applauded the Companion Care Card programme.
"We are definitely in favour of it," said Ms Elaine Chiam, 31, who runs Love Kuching Project, a cattery with three cats waiting to be adopted. "Our adoption rate is, on average, three cats per month at the moment, and we are confident of pushing this number higher with the programme."
Still, most of those who have decided to adopt an animal will do so regardless of cost, said Mr Cohen Ng, 47, director of animal shelter Mutts & Mittens, and Ms Yian Tay, 35, a communications officer with Madam Wong's Shelter.
Mr Ng said the project would benefit smaller charity establishments that cannot afford to offer such perks. Mutts & Mittens has a monthly adoption rate of four to eight animals, while Madam Wong's Shelter's rate is around half of that.
Compared to a decade ago, pet lovers today have many shelters from which they can adopt – or abandon – an animal companion, observed Ms Tay.
"I won't say whether it is a definite yes or no that the programme will increase the adoption rate," she said. "But I hope that it will push more people to adopt rather than buy."
rachan@sph.com.sg