/ What's New
Published June 7, 2016 in
In The News
,
Service
,
What's New
|
Tags:
Dog Grooming
,
dog hotel
,
Dog Spa
,
pet accommodation
,
pet grooming
,
Pet Hotel
,
Pet Spa
,
Petopia
|
Leave a comment
---
Published May 31, 2014 in
Hotel & Daycare
,
In The News
,
Service
,
Testimonials
,
What's New
|
Tags:
dog accomodation
,
Dog Grooming
,
dog hotel
,
Dog Spa
,
dog styling
,
pet accomoation
,
pet grooming
,
Pet Hotel
,
Pet Spa
,
Pet Styling
,
Petopia
|
Leave a comment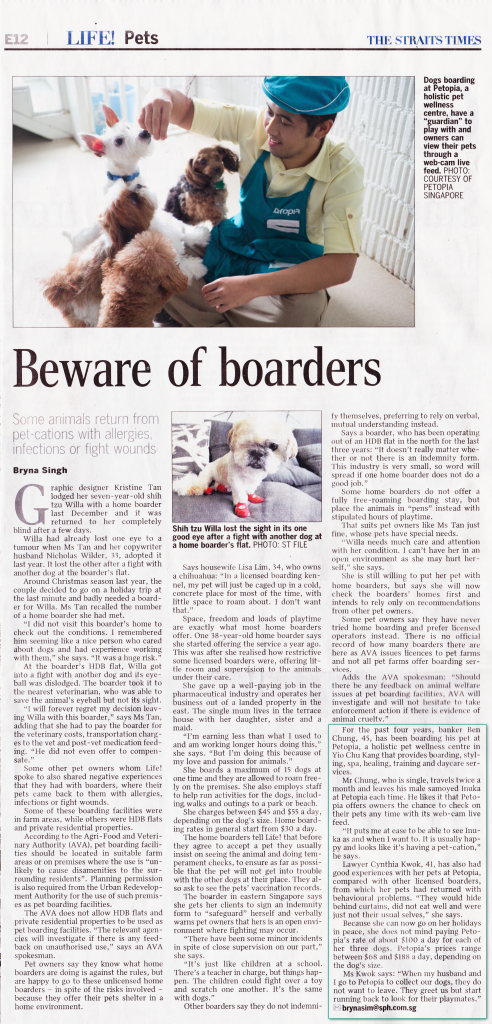 Graphic designer Kristine Tan lodged her seven-year-old shih tzu Willa with a home boarder last December and it was returned to her completely blind after a few days.
Willa had already lost one eye to a tumour when Ms Tan and her copywriter husband Nicholas Wilder, 33, adopted it last year. It lost the other after a fight with another dog at the boarder's flat.
Around Christmas season last year, the couple decided to go on a holiday trip at the last minute and badly needed a boarder for Willa. Ms Tan recalled the number of a home boarder she had met.
"I did not visit this boarder's home to check out the conditions. I remembered him seeming like a nice person who cared about dogs and had experience working with them," she says. "It was a huge risk."
At the boarder's HDB flat, Willa got into a fight with another dog and its eyeball was dislodged. The boarder took it to the nearest veterinarian, who was able to save the animal's eyeball but not its sight.
"I will forever regret my decision leaving Willa with this boarder," says Ms Tan, adding that she had to pay the boarder for the veterinary costs, transportation charges to the vet and post-vet medication feeding. "He did not even offer to compensate."
Some other pet owners whom Life! spoke to also shared negative experiences that they had with boarders, where their pets came back to them with allergies, infections or fight wounds.
Some of these boarding facilities were in farm areas, while others were HDB flats and private residential properties.
According to the Agri-Food and Veterinary Authority (AVA), pet boarding facilities should be located in suitable farm areas or on premises where the use is "unlikely to cause disamenities to the surrounding residents". Planning permission is also required from the Urban Redevelopment Authority for the use of such premises as pet boarding facilities.
The AVA does not allow HDB flats and private residential properties to be used as pet boarding facilities. "The relevant agencies will investigate if there is any feedback on unauthorised use," says an AVA spokesman.
Pet owners say they know what home boarders are doing is against the rules, but are happy to go to these unlicensed home boarders – in spite of the risks involved – because they offer their pets shelter in a home environment.
Says housewife Lisa Lim, 34, who owns a chihuahua: "In a licensed boarding kennel, my pet will just be caged up in a cold, concrete place for most of the time, with little space to roam about. I don't want that."
Space, freedom and loads of playtime are exactly what most home boarders offer. One 38-year-old home boarder says she started offering the service a year ago. This was after she realised how restrictive some licensed boarders were, offering little room and supervision to the animals under their care.
She gave up a well-paying job in the pharmaceutical industry and operates her business out of a landed property in the east. The single mum lives in the terrace house with her daughter, sister and a maid.
"I'm earning less than what I used to and am working longer hours doing this," she says. "But I'm doing this because of my love and passion for animals."
She boards a maximum of 15 dogs at one time and they are allowed to roam freely on the premises. She also employs staff to help run activities for the dogs, including walks and outings to a park or beach.
She charges between $45 and $55 a day, depending on the dog's size. Home boarding rates in general start from $30 a day.
The home boarders tell Life! that before they agree to accept a pet they usually insist on seeing the animal and doing temperament checks, to ensure as far as possible that the pet will not get into trouble with the other dogs at their place. They also ask to see the pets' vaccination records.
The boarder in eastern Singapore says she gets her clients to sign an indemnity form to "safeguard" herself and verbally warns pet owners that hers is an open environment where fighting may occur.
"There have been some minor incidents in spite of close supervision on our part," she says.
"It's just like children at a school. There's a teacher in charge, but things happen. The children could fight over a toy and scratch one another. It's the same with dogs."
Other boarders say they do not indemnify themselves, preferring to rely on verbal, mutual understanding instead.
Says a boarder, who has been operating out of an HDB flat in the north for the last three years: "It doesn't really matter whether or not there is an indemnity form. This industry is very small, so word will spread if one home boarder does not do a good job."
Some home boarders do not offer a fully free-roaming boarding stay, but place the animals in "pens" instead with stipulated hours of playtime.
That suits pet owners like Ms Tan just fine, whose pets have special needs.
"Willa needs much care and attention with her condition. I can't have her in an open environment as she may hurt herself," she says.
She is still willing to put her pet with home boarders, but says she will now check the boarders' homes first and intends to rely only on recommendations from other pet owners.
Some pet owners say they have never tried home boarding and prefer licensed operators instead. There is no official record of how many boarders there are here as AVA issues licences to pet farms and not all pet farms offer boarding services.
Adds the AVA spokesman: "Should there be any feedback on animal welfare issues at pet boarding facilities, AVA will investigate and will not hesitate to take enforcement action if there is evidence of animal cruelty."
For the past four years, banker Ben Chung, 45, has been boarding his pet at Petopia, a holistic pet wellness centre in Yio Chu Kang that provides boarding, styling, spa, healing, training and daycare services.
Mr Chung, who is single, travels twice a month and leaves his male samoyed Inuka at Petopia each time. He likes it that Petopia offers owners the chance to check on their pets any time with its web-cam live feed.
"It puts me at ease to be able to see Inuka as and when I want to. It is usually happy and looks like it's having a pet-cation," he says.
Lawyer Cynthia Kwok, 41, has also had good experiences with her pets at Petopia, compared with other licensed boarders, from which her pets had returned with behavioural problems. "They would hide behind curtains, did not eat well and were just not their usual selves," she says.
Because she can now go on her holidays in peace, she does not mind paying Petopia's rate of about $100 a day for each of her three dogs. Petopia's prices range between $68 and $188 a day, depending on the dog's size.
Ms Kwok says: "When my husband and I go to Petopia to collect our dogs, they do not want to leave. They greet us but start running back to look for their playmates."
---